Slotenmaker Temse –
Vervaert voor de beste sloten!
Wij gebruiken uitsluitend hoogwaardige materialen
Altijd bereikbaar, ook voor spoed
Transparante service en goed advies
Professionele inbraakpreventie
Spoedservice
Sloten vervangen
Inbraakpreventie
Hang- en sluitwerk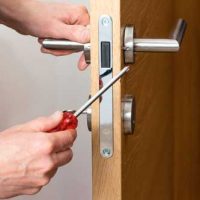 Slotenmaker Temse helpt u graag!
De slotenmaker in Temse komt graag bij u langs voor al uw problemen. Het voordeel van een slotenmaker uit de buurt is dat hij zo snel mogelijk langs kan komen. Daardoor kan de slotenmaker ook bij u langs komen wanneer er na de installatie van het hang- en sluitwerk nog vragen of problemen opdoemen. Dat is echter niet het enige wat wij voor u kunnen betekenen.
24-uurs slotenmaker dienst
De slotenmaker uit Temse heeft een 24-uurs service. Dit houdt in dat de wij altijd bereikbaar is. Het gaat dan om 24 uur per dag en 7 dagen per week. Ook wanneer u een probleem heeft tijdens de feestdagen. Het voordeel hiervan is dat u met al uw spoedeisende problemen contact kan opnemen met ons en onze slotenmaker uw problemen vrijwel direct kan verhelpen. Wanneer er bijvoorbeeld is ingebroken, wil u zo snel mogelijk een slotenmaker langs laten komen. Dat is niet alleen van belang om de woning weer zo snel mogelijk veilig te maken, maar ook om het gekwetste gevoel van veiligheid weer zo veel als mogelijk te herstellen. Daarvoor is het immers van belang dat de woning zo snel mogelijk weer als vanouds gebruikt kan worden.
Buitensluitingen zijn geen probleem
De slotenmaker uit Temse kan u daarnaast ook te hulp staan wanneer u te maken heeft met buitensluitingen. De slotenmaker kan vaak zonder schade de deuren weer openen en u eventueel adviseren om herhaling van het probleem te voorkomen. Dat is vaak veel goedkoper dan wanneer u zelf besluit om een ruit in te tikken om zo binnen te komen in de woning.
Neem direct contact op met slotenmaker Temse.
Bel voor spoed of voor het maken van een afspraak!